Clean Path NY Announces Public Information Open House in Rockland County
All community members invited to meet the project team, ask questions and provide input on the Clean Path NY transmission line
Renewable energy project to transmit clean energy adding resiliency, reliability to state's energy grid and create an estimated 8,300 in-state jobs
---
NEW YORK– July 11, 2022 –Today, Clean Path NY announced that will hold an open house in Rockland County on July 25, 2022 to invite input, solicit feedback and share important information with residents, businesses, and other community stakeholders on the Clean Path NY transmission line. Clean Path NY is a collaborative clean energy project of NYPA, Invenergy and energyRe. Upon completion, Clean Path NY is estimated to reduce greenhouse gas emissions from the statewide electric sector by 20-22% percent every year and avoid 49 million tons of CO2 emissions through 2040. The project represents an $11 billion in-state investment that will create an estimated 8,300 in-state jobs and catalyze $4.7 billion of in-state economic development.
July 25, 2022
Haverstraw Town Hall
1 Rosman Road
Garnerville, NY 10923
Session 1 | 9:00 AM - 11:00 AM
Session 2 | 5:00 PM - 7:00 PM
Clean Path NY is comprised of a 175-mile state-of-the-art underground/underwater transmission line that will transport energy from new in-state solar and wind power and New York Power Authority's (NYPA) existing Blenheim-Gilboa pumped storage facility, increasing the reliability of the transmission system and helping transition New York State to a clean energy economy. Together, these assets will help drive a significant reduction in the use of oil and gas-fired fossil fuel plants, and advance New York's transition to a zero-emission electricity sector by 2040.
Routing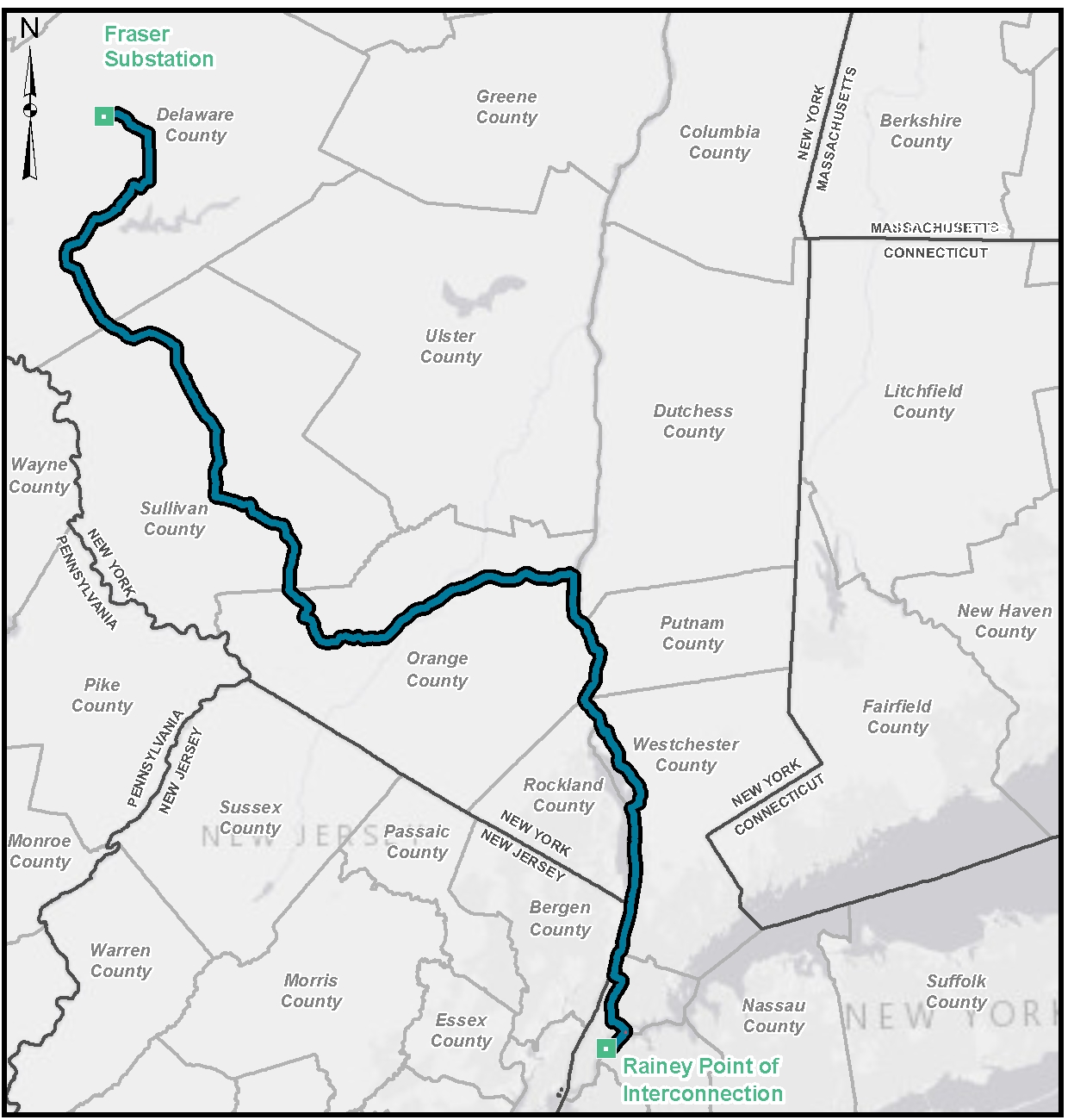 Route planning and environmental work is underway on the Clean Path NY transmission line route from Delaware County, in New York's Southern Tier economic development region, through the Mid-Hudson region to New York City. The robust and comprehensive state planning process ensures that the transmission line will follow the most optimal route, taking into account potential community impact and environmental stewardship. In particular, Clean Path NY's route will be designed specifically to minimize potential impacts to the Hudson River. The transmission line will be sited entirely underground or underwater and primarily in existing NYPA and DOT rights of way already used by transmission lines and roads, limiting impact to surrounding communities and environments and ensuring the line is resilient in extreme weather.
Clean Path NY also includes more than 20 wind and solar energy generation projects spread across New York. The geographic and technological diversity of Clean Path NY's wind and solar generation maximizes the resiliency and reliability of the energy supply. Each wind and solar project will be independently permitted to facilitate public review and engagement, and will follow its own public information schedule to be announced at a later date.
Public Input
The project team is committed to working with communities and other stakeholders at every stage of development and all along the project route to ensure that local voices are sought and heard, for the wellbeing of communities and the project's surrounding ecosystem. To date, the project team has held more than 200 meetings and received more than 600 letters of support and comments from working New Yorkers, elected officials, industry leaders, and advocates across the state. Read more.
Workforce Development
Clean Path NY will develop an investment fund to support workforce development and education programs, health services and environmental stewardship programs that will include electrification retrofits of affordable housing – with priority given to directing funds into frontline and otherwise underserved communities. Workforce development and education programs will focus on increasing access and opportunities in the green economy with additional increased funding for existing workforce development, apprenticeships, local hiring initiatives, and education. The fund will seek to make targeted investments to expand access to medical care and health services in the frontline communities that have borne a disproportionate burden of the fossil fuel economy for too long. The fund is also seeking environmental conservation and clean energy opportunities to spur investment, create jobs, and reduce the environmental burden existing buildings place on communities.
For more information, visit the project's website, sign up here to receive updates and follow Clean Path NY on Twitter and Instagram @cleanpathny.
For New Yorkers unable to visit open houses in person, please visit the Clean Path NY virtual portal here. 
About NYPA
NYPA is the largest state public power organization in the nation, operating 16 generating facilities and more than 1,400 circuit-miles of transmission lines. More than 80 percent of the electricity NYPA produces is clean renewable hydropower. NYPA owns and operates approximately one third of New York's high voltage power lines. These lines transmit power from NYPA's three large hydroelectric generation facilities and independent wind power generation facilities, connecting nearly 7,000 megawatts of renewable energy to New York State's power grid. This includes connecting more than 6,300 megawatts of hydroelectric power and about 700 megawatts, or more than a third, of New York State generated wind energy to the grid. NYPA uses no tax money or state credit. It finances its operations through the sale of bonds and revenues earned in large part through sales of electricity. For more information visit www.nypa.gov and follow us on Twitter @NYPAenergy, Facebook, Instagram, Tumblr  and LinkedIn. 
About energyRe
energyRe is an independent New York company focused on solving complex challenges and providing clean energy solutions. The team at energyRe has expertise in infrastructure, engineering, and real estate and its founding investors include principals of Related Companies. Guided by the values of community engagement, government partnership, and a demonstrated commitment to sustainability, energyRe is working towards a clean energy future for all New Yorkers. For more information please visit energyre.com. 
About Invenergy
We are innovators building a sustainable world. Invenergy has successfully developed more than 29,000 megawatts of large-scale sustainable energy generation and storage facilities in the Americas, Europe and Asia and is delivering clean energy to market through its growing portfolio of Invenergy Transmission projects. Since its first New York wind farm began operating in 2009, Invenergy has been helping build New York's renewable energy future and today employs New Yorkers at its regional office in Ithaca and at four operating energy facilities. For more information, please visit Invenergy.com. 
Media Contacts:
Sunshine Sachs Morgan & Lylis
cleanpathny@SunshineSachs.com